Update: On June 4, 2018 jail dockets will be moved out of 1307 Baker St., and into 1201 Franklin St., 20th floor.
Due to the impact of Hurricane Harvey, bond dockets for the 16 County Criminal Courts at Law will be held at 8:30 AM and 11:00 AM at the Family Law Center (1115 Congress Avenue), while jail dockets will be held at 9:30 AM at 1201 Franklin Street. Please refer to the charts below for additional details.
Bond dockets (1115 Congress Avenue):

Jail dockets (1201 Franklin Street):
*As of June 4, 2018, jail dockets relocated from 1307 Baker Street to 1201 Franklin Street.
Court locations for bond dockets and trial courtrooms are detailed in the PDF below (click thumbnail to view or download):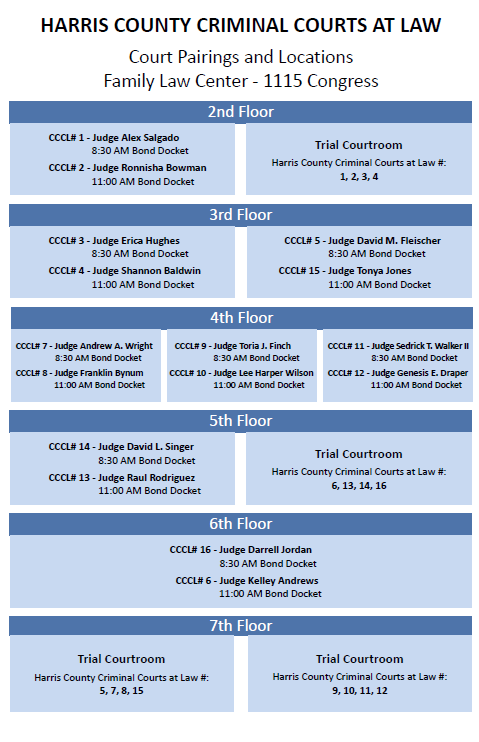 Notice Regarding Case Settings in Harris County Criminal Courts at Law
HURRICANE HARVEY ADVISORY:
Please be advised that Jury Assembly for Harris County Courts has been cancelled for MONDAY Aug 28, 2017. Jurors summoned for duty Monday do not need to appear and do not need to reschedule.

All County and District Courts will also be closed Monday.

A decision regarding court and jury operations on Tuesday will be made on Monday based on assessment of the weather situation.
Notice Regarding Case Settings in Harris County Criminal Courts at Law